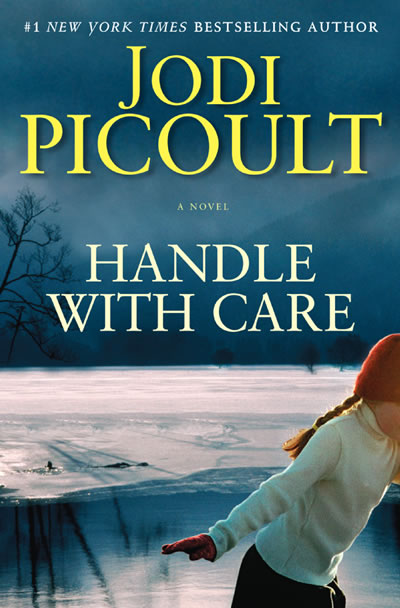 Published: March 27, 2009

__________
FICTION HARDCOVER

HANDLE WITH CARE, by Jodi Picoult. (Atria, $27.95.) A woman whose daughter has a dangerous birth defect must decide whether to sue her obstetrician, an old friend.
Call #: F PIC
CORSAIR, by Clive Cussler and Jack Du Brul. (Putnam, $27.95.) Juan Cabrillo and the crew of the Oregon search for a missing secretary of state whose plane has been shot down.
Call #: F CUS
THE ASSOCIATE, by John Grisham. (Doubleday, $27.95.) An idealistic law-school graduate is forced to take a job at a large, brutalizing law firm.
Call #: F GRI
THE HOST, by Stephenie Meyer. (Little, Brown, $25.99.) Aliens have taken control of the minds and bodies of most humans, but one woman won't surrender.
Call #: F MEY
RUN FOR YOUR LIFE, by James Patterson and Michael Ledwidge. (Little, Brown, $27.99.) A detective raising 10 children alone must stop a killer who has targeted New York's rich and powerful.
Call #: F PAT
PROMISES IN DEATH, by J. D. Robb. (Putnam, $26.95.) Lt. Eve Dallas investigates a colleague's murder; by Nora Roberts, writing pseudonymously.
Call #: F ROB
THE GUERNSEY LITERARY AND POTATO PEEL PIE SOCIETY, by Mary Ann Shaffer and Annie Barrows. (Dial, $22.) A journalist travels to the island of Guernsey to meet residents who resisted the Nazi occupation.
Call #: F SHA
HEART AND SOUL, by Maeve Binchy. (Knopf, $26.95.) A doctor establishes a heart clinic in a Dublin neighborhood.
Call #: F BIN
ONE DAY AT A TIME, by Danielle Steel. (Delacorte) A mother and her two daughters in a Hollywood family find very different kinds of love.
Call #: F STE
DEAD SILENCE, by Randy Wayne White. (Putnam, $25.95.) Doc Ford searches for a kidnapped boy.
Call #: F WHI
NIGHT AND DAY, by Robert B. Parker. (Putnam, $25.95.) Jesse Stone, the police chief of Paradise, Mass., must catch a voyeur who forces women to strip at gunpoint.
Call #: F BIN
WHITE WITCH, BLACK CURSE, by Kim Harrison. (Eos/William Morrow, $25.99.) A witch who is also a bounty hunter avenges her lover's murder; Book 7 of the Hollows series.
TERMINAL FREEZE, by Lincoln Child. (Doubleday, $24.95.) Scientists discover an ancient creature frozen in an Arctic cave and thaw it despite the villagers' warnings.
Call #: F CHI
THE HELP, by Kathryn Stockett. (Putnam, $24.95.) A young white woman and two black maids in 1960s ­Mississippi.
HOTEL ON THE CORNER OF BITTER AND SWEET, by Jamie Ford. (Ballantine, $24.) A friendship between a Chinese-American boy and a Japanese-American girl who are students in Seattle during World War II.
Call #: F FOR
__________
NONFICTION HARDCOVER
OUTLIERS, by Malcolm Gladwell. (Little, Brown, $27.99.) Why some people succeed — it has to do with luck and opportunities as well as talent.
Call#: 302 GLA
A LION CALLED CHRISTIAN, by Anthony Bourke and John Rendall. (Broadway, $21.95.) Two men buy a pet lion cub in London, bring him to Africa when he is grown, and later have a heartwarming reunion; an update of a 1971 book.
Call #: ABCD 599.757 BOU
HOUSE OF CARDS, by William D. Cohan. (Doubleday, $27.95.) The fall of Bear Stearns and the beginning of the Wall Street collapse.
THE YANKEE YEARS, by Joe Torre and Tom Verducci. (Doubleday, $26.95.) The former Yankee manager (1996-2007) on his years with the team.
Call#: BIO TOR
THE LOST CITY OF Z, by David Grann. (Doubleday, $27.50.) A New Yorker writer searches for a British explorer who disappeared 80 years ago in the Amazon.
MY BOOKY WOOK, by Russell Brand. (Collins, $25.99.) A memoir of sex, drugs and stand-up from a British comedian and actor.
INSIDE THE REVOLUTION, by Joel C. Rosenberg. (Tyndale, $24.99.) The power of three groups in the Middle East: Islamic radicals, moderate reformers and Muslims who are becoming Christians.
Call #: 956.054 ROS
DEWEY, by Vicki Myron with Bret Witter. (Grand Central, $19.99.) The kitten left freezing in the returned-book slot of an Iowa public library, and his rise to fame.
Call #: 636.809 MYR
A BOLD FRESH PIECE OF HUMANITY, by Bill O'Reilly. (Broadway, $26.) The Fox News commentator on his upbringing and career.
Call #: BIO ORE
THE UNFORGIVING MINUTE, Craig M. Mullaney. (Penguin Press, $28.95.) A soldier's coming of age at West Point, Ranger School, Oxford (as a Rhodes scholar) and in battle in ­Afghanistan.
OUT OF CAPTIVITY, by Marc Gonsalves, Keith Stansell, Tom Howes and Gary Brozek. (William Morrow, $26.99.) Three contractors escape from Colombian guerrillas.
ARE YOU THERE, VODKA? IT'S ME, CHELSEA, by Chelsea Handler. (Simon Spotlight Entertainment, $24.95.) Humorous personal essays from the stand-up comedian.
Call #: 306.709 HAN
NO ANGEL, by Jay Dobyns and Nils Johnson-Shelton. (Crown, $25.95.) An A.T.F. agent goes undercover with the Hells Angels.
THE NEXT 100 YEARS, by George Friedman. (Doubleday, $25.95.) A forecast of future wars and changes in nations' economic and political power.
MULTIPLE BLESSINGS, by Jon Gosselin, Kate Gosselin and Beth Carson. (Zondervan, $19.) A couple has sextuplets.
Call #: 306.874 GOS
__________
ADVICE, HOW-TO, AND
MICELLANEOUS HARDCOVER

ACT LIKE A LADY, THINK LIKE A MAN, by Steve Harvey. (Amistad/HarperCollins, $23.99.) Relationship tips from the comedian and host of "The Steve Harvey Morning Show."
Call #: 646.77 HAR
THE LAST LECTURE, by Randy Pausch with Jeffrey Zaslow. (Hyperion, $21.95.) Thoughts on "seizing every moment" from Pausch, a Carnegie Mellon professor who died of pancreatic cancer at age 47.
Call #: 004.092 PAU
THE SECRET, by Rhonda Byrne. (Atria/Beyond Words, $23.95.) The law of attraction as a key to getting what you want.
Call #: 158.1 BYR
FLAT BELLY DIET!, by Liz Vaccariello and Cynthia Sass. (Rodale, $25.95.) Nutrition advice and workout tips from the editors of Prevention magazine.
Call #: 613.25 FLA
FRACTAL TIME, by Gregg Braden. (Hay House, $24.95.) A guide to a world time cycle that is calculated to end in the year 2012.