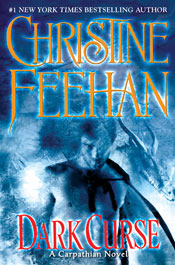 Published: September 21, 2008

FICTION HARDCOVER

DARK CURSE, by Christine Feehan. (Berkley, $24.95.) Lara Callandine, an expert in the field of ice-cave study, joins with Nicholas De La Cruz to search for the truth about their pasts; a Carpathian novel.

THE BOOK OF LIES, by Brad Meltzer. (Grand Central, $25.99.) The murder of the father of Superman's creator, Jerry Siegel, is linked to the biblical story of Cain and Abel. Call #: F MEL

AMERICAN WIFE, by Curtis Sittenfeld. (Random House, $26.) A pretty librarian marries the alcoholic son of a wealthy political family who somehow becomes president.
Call #: F SIT

DEVIL BONES, by Kathy Reichs. (Scribner, $25.95.) In the 11th Temperance Brennan mystery, the forensic anthropologist must identify two victims of voodoo and devil worship.
Call #: F REI

THE GUERNSEY LITERARY AND POTATO PEEL PIE SOCIETY, by Mary Ann Shaffer and Annie Barrows. (Dial, $22.) After World War II, a journalist travels to the island of Guernsey to meet residents who resisted the Nazi occupation.

THE HOST, by Stephenie Meyer. (Little, Brown, $25.99.) Aliens have taken control of the minds and bodies of most humans, but one woman won't surrender.
Call #: F MEY

THE GYPSY MORPH, by Terry Brooks. (Del Rey/ Ballantine, $27.) In the third volume of the Genesis of Shannara series, champions of the Word and the Void clash.
Call #: F BRO

SILKS, by Dick Francis and Felix Francis. (Putnam, $25.95.) A British defense lawyer and amateur jockey reluctantly represents another jockey who seems to be guilty of murder.
Call #: F FRA

THE STORY OF EDGAR SAWTELLE, by David Wroblewski. (Ecco, $25.95.) A young mute who can communicate with dogs his family raises takes refuge with three of them in the Wisconsin woods after his uncle murders his father.
Call #: F WRO

SMOKE SCREEN, by Sandra Brown. (Simon & Schuster, $26.95.) Scandalous deaths thwart the investigation of a fatal fire at police headquarters in Charleston, S.C.
Call #: F BRO

THE BOURNE SANCTION, by Eric Van Lustbader. (Grand Central, $25.99.) Robert Ludlum's character Jason Bourne pursues the leader of a Muslim terrorist group.
Call #: F LUS

THE FORCE UNLEASHED, by Sean Williams. (Del Rey, $26.) An apprentice to Darth Vader is dispatched to kill the last of his master's enemies; a "Star Wars" novel.

HOME, by Marilynne Robinson. (Farrar, Straus & Giroux, $25.) The events of the Pulitzer Prize-winning novel "Gilead" are revisited from another perspective.
Call #: F ROB

OFF SEASON, by Anne Rivers Siddons. (Grand Central, $24.95.) A widow returns to her hometown in Maine to regather the strands of her life.
Call #: F SID

SWEETHEART, by Chelsea Cain. (St. Martin's, $24.95.) A pill-popping detective is obsessed with the beautiful serial killer who tortured him and who has escaped from prison.



NONFICTION HARDCOVER

STORI TELLING, by Tori Spelling with Hilary Liftin. (Simon Spotlight, $24.95.) The actress's memoir, from her Hollywood childhood through "Beverly Hills, 90210," to her son's birth.
Call #: BIO SPE

THE OBAMA NATION, by Jerome R. Corsi. (Threshold, $28.) The Democratic candidate as an extreme leftist, from the co-author of "Unfit for Command: Swift Boat Veterans Speak Out Against John Kerry."
Call #: BIO OBA

ARE YOU THERE, VODKA? IT'S ME, CHELSEA, by Chelsea Handler. (Simon Spotlight Entertainment, $24.95.) Humorous personal essays from the stand-up comedian.
Call #: 306.709 HAN

WHEN YOU ARE ENGULFED IN FLAMES, by David Sedaris. (Little, Brown, $25.99.) The humorist's latest essays.
Call #: 814.54 SED

THE CASE AGAINST BARACK OBAMA, by David Freddoso. (Regnery, $27.95.) The Democratic candidate as a calculating extreme leftist.

THE LIMITS OF POWER, by Andrew Bacevich. (Metropolitan/Holt, $24.) A retired Army colonel argues that American citizens are ultimately responsible for the country's military and economic woes.
Call #: 320.973 BAC

FLEECED, by Dick Morris and Eileen McGann. (Harper, $26.95.) Americans are fleeced by government, business, labor unions and lobbyists.
Call #: 320.973 MOR

THE FIRST BILLION IS THE HARDEST, by T. Boone Pickens. (Crown Business, $26.95.) An account of Pickens's career and his views about energy policy.

FAITH OF MY FATHERS, by John McCain with Mark Salter. (Random House) A family memoir by the Arizona senator and Republican presidential candidate.
Call #: 920 MCC

THE REVOLUTION, by Ron Paul. (Grand Central, $21.) A libertarian manifesto from the Texas congressman.
Call #: 973.931 PAU

THE WAY OF THE WORLD, by Ron Suskind. (Harper, 27.95.) How the Bush administration ignored evidence about Iraq in its rush to war.

THE POST-AMERICAN WORLD, by Fareed Zakaria. (Norton, $25.95.) The rise of China and India and the global distribution of power.
Call #: 303.49 ZAK

SARAH, by Kaylene Johnson. (Epicenter, $19.95.) The career of Sarah Palin, the Alaska governor and Republican vice presidential nominee.

TRAFFIC, by Tom Vanderbilt. (Knopf, $24.95.) Why we drive the way we do.

THE HOUSE AT SUGAR BEACH, by Helene Cooper. (Simon & Schuster, $25.) A New York Times reporter's memoir of growing up in, and fleeing from, Liberia.


______
ADVICE, HOW-TO, AND
MICELLANEOUS HARDCOVER

THE LAST LECTURE, by Randy Pausch with Jeffrey Zaslow. (Hyperion, $21.95.) After learning he has terminal cancer, a Carnegie Mellon professor shares his thoughts on the importance of "seizing every moment."
Call #: 004.092 PAU

THE SECRET, by Rhonda Byrne. (Atria/Beyond Words, $23.95.) The law of attraction as a key to getting what you want.
Call #: 158.1 BYR

THE 4-HOUR WORKWEEK, by Timothy Ferriss. (Crown, $19.95.) Because life isn't all about work.
Call #: 650.1 FER

YOU: STAYING YOUNG, by Michael F. Roizen and Mehmet C. Oz et al. (Free Press, $26.) The principles of longevity and how to combat aging's effects.
Call #: 613.2 OZ

THE SOUTH BEACH DIET SUPERCHARGED, by Arthur Agatston with Joseph Signorile. (Rodale, $25.95.) A guide to faster weight loss.
Call #: 613.25 AGA


Published: September 12, 2008
______
BUSINESS HARDCOVER

THE 4-HOUR WORKWEEK, by Timothy Ferriss. (Crown, $19.95.) Because life isn't all about work.
Call #: 650.1 FER

THE TOTAL MONEY MAKEOVER, by Dave Ramsey (Thomas Nelson, $24.99.) Debt reduction and fiscal fitness for families, by the radio talk-show host.
Call #: 332.024 RAM

NOW DISCOVER YOUR STRENGTHS, by Marcus
Buckingham and Donald O. Clifton. (Free Press, $27). How to identify and develop your talents and those of your employees.
Call #: 650.14 BUC

DEBT CURES "THEY" DON'T WANT YOU TO KNOW ABOUT, by Kevin Trudeau. (Equity, $25.95.) How the credit industry is rigged against you, and how to fight back by changing habits.
Call #: 332.024 TRU

FREAKONOMICS, by Steven D. Levitt and Stephen J. Dubner. (Morrow, $27.95.) Explores the incentives that drive groups, including school teachers, campaign fund-raisers and real estate agents.
Call #: 330 LEV

WHEN MARKETS COLLIDE, by Mohamed A. El-Erian. (McGraw-Hill, $27.95.) Investing advice for a time of global economic change.
Call #: 381.101 EL-

YES!, by Noah J. Goldstein, Steve J. Martin and Robert B. Cialdini. (Free Press, $25.) The one word that can get people to say "yes" and 49 other ways to improve your powers of persuasion.

SIX DISCIPLINES EXECUTION REVOLUTION, by Gary Harpst. (Six Disciplines Publishing, $12.95.) Strategies for small and midsize businesses.

KILLING SACRED COWS, by Garrett B. Gunderson with Stephen Palmer. (Greenleaf, $21.95 .) Debunking myths about money and saving for retirement.

WOMEN AND MONEY, by Suze Orman. (Spiegel & Grau, $24.95.) Advice for overcoming one's dysfunctional relationship with money, including a plan for getting finances on track.
Call #: 332.024 ORM

OUR ICEBERG IS MELTING, by John Kotter and Holger Rathgeber. (St. Martin's, $19.95.) A fable about how to bring about change in a group, through the eyes of a penguin bearing bad news.
Call #: 658.406 KOT

AHEAD OF THE CURVE, by Philip Delves Broughton. (Penguin Press, $25.95.) An account of the author's two years at Har­vard Business School.

THE TEN COMMANDMENTS FOR BUSINESS FAILURE, by Donald R. Keough. (Portfolio, $24.95.) A former president of the Coca-Cola Company uses reverse psychology to dispense busi­ness advice.

THE BLACK SWAN, by Nassim Nicholas Taleb. (Random House, $26.95.) A financial trader with an expertise in probability theory and statistics, debunks much about economic forecasting.
Call #: 003.54 TAL

THE LITTLE BOOK THAT SAVES YOUR ASSETS, by David M. Darst. (Wiley, $19.95.) Learn what the rich have always known "correct asset allocation".